Early careers at First Central.
We're passionate about nurturing our own talent here at First Central so we've developed a bespoke range of schemes to support people who are just starting out in their careers. Perhaps you're wondering what you'll do once you graduate from uni? Or you're in your last year of college and considering jobs with training to take you to the next level? Maybe you're about to leave school and fancy doing an apprenticeship as your first step on the career ladder? Whatever stage you're at, we may just have the perfect opportunity for you. How exciting!
Graduate Schemes.
Our Underwriting and Retail Pricing areas have been welcoming graduates into the mix for some time and last year we said a big hello to our first legal graduate. Now though we're upping our game. We're beavering away behind the scenes to create graduate opportunities in more areas of our business.
We're super excited about our plans to not only boost graduate numbers in the departments we've already mentioned but to develop brand NEW opportunities for 2023 within our Finance, Risk & Compliance, Data Science and Culture & Engagement teams. If you're looking for a structured career roadmap with the chance of working towards relevant professional qualifications, look no further! First Central's the place for you.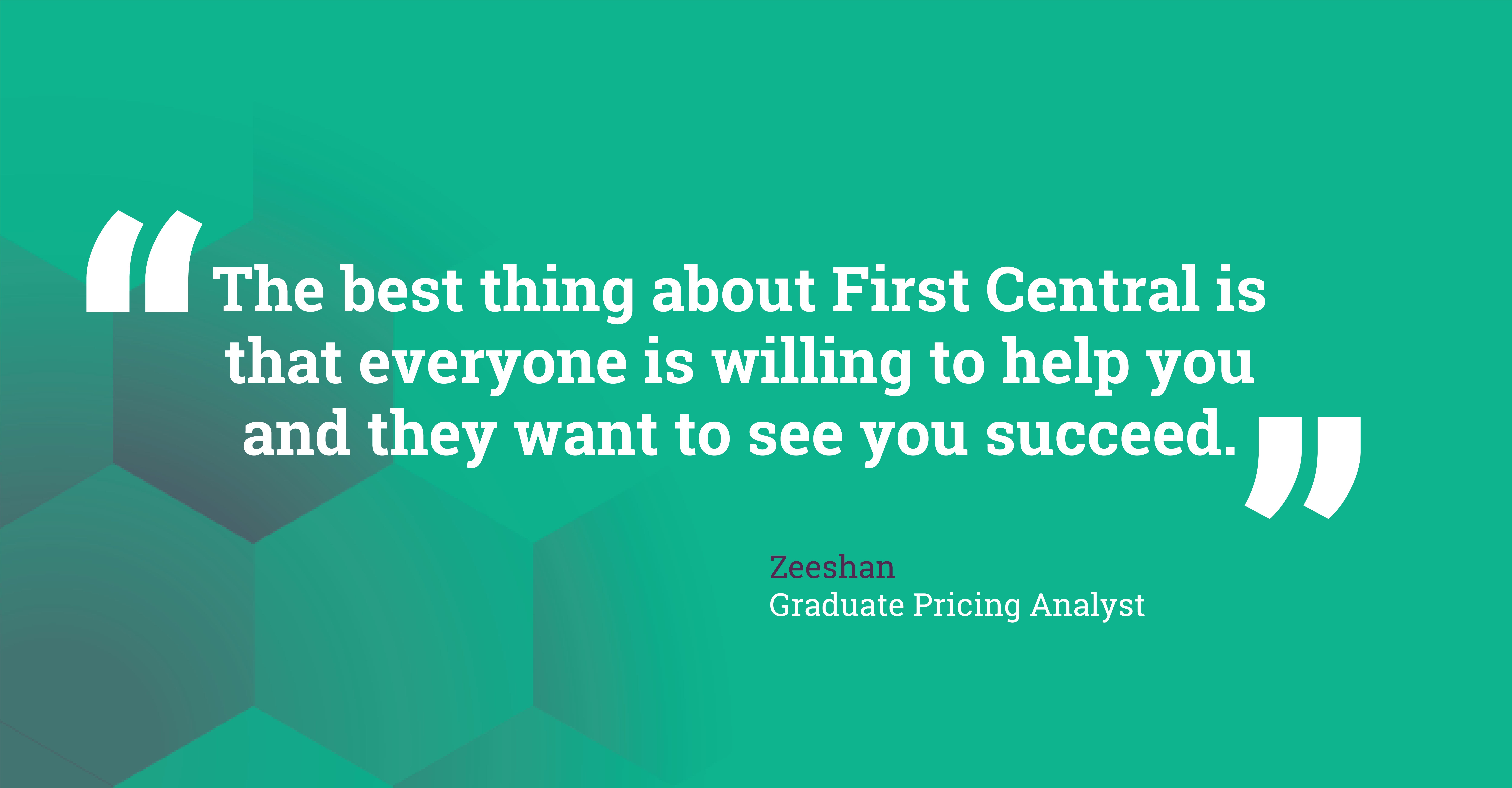 Apprenticeships.
Apprenticeships are a win-win! You'll get a job-focused training programme that mixes accredited learning with paid employment. You can find them in lots of different industries and professions and tiers range from Level 2 (GCSE) up to Level 7 (Masters Degree) depending on the job role.
Only the best training providers out there are good enough for our people so, as an apprentice, your programme will be engaging and relevant. It'll give you the right skills to make a real impact on your career progression. In 2022 we created new apprenticeship positions in our IT Helpdesk, Data & Analytics and Procurement teams. But we're not stopping there. We have big plans to roll these fantastic opportunities out even further in 2023, including in our Legal and Data Operations teams.
Listen to Aidan's experience so far...
Work Experience.
We're firm believers you should 'try before you buy' whenever you can. So, in 2022 we teamed up with some local schools to run our first Work Experience programme. We welcomed 11 Year 10 students to our Haywards Heath office and eight up in Manchester for a week. We opened a similar opportunity up to a small group of Year 12 students from a local college. In all, they spent time with 36 of our teams and we gave them a taste of the insurance industry and a sneaky peak at First Central.
We were bowled over by the positive feedback everyone involved gave us! We're ramping things up for 2023. We're going bigger and better and getting our other offices in on the act. We're on a roll…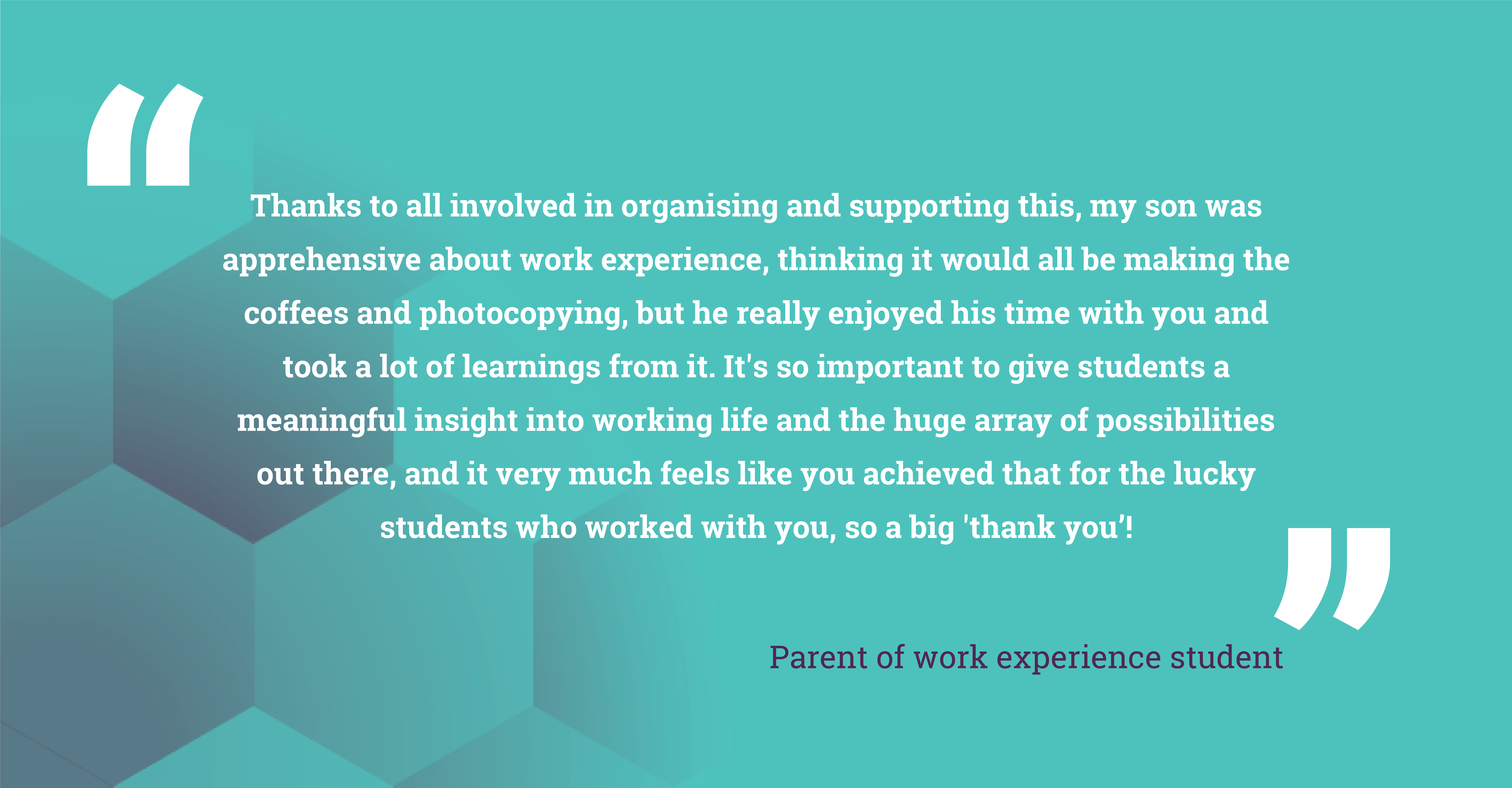 Internships / Summer Placements.
We've been asked by universities and students more than once if we can offer sandwich year and/or summer placements related to their degree programmes. So we thought, 'why not?!'
To start things off, we've teamed up with two universities and we'll be taking placement students in both our Underwriting and Claims & Fraud teams in 2023. If all goes well we'll be rolling this out further in future years, so keep your eyes peeled.
T Levels are on their way...
Launched in 2020, T Levels are two-year, career-focused courses that 16 to 18-year-olds can study after finishing their GCSEs. They're on a par with three A levels and focus on the vocational skills you'd need to work in a certain career area.
Each T Level includes an in-depth industry placement lasting at least 45 days, and we're currently working with local colleges to see how we can support placement students, starting with an opportunity in our Legal team in 2023. Get ready to take it to the next level.